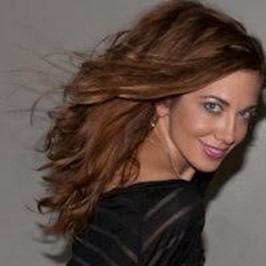 We recently had the chance to speak with Roxanne Wilder, the newest co-host of the MJ Morning Show on Q105. Roxanne, a Tampa native and member of the Q105 team for a few years, brings a unique perspective to the show with her background in sports reporting, being a mom of two young kids, and her overall passion for living in the Tampa Bay area.


Q: Where did you attend high school and college?


A: I graduated from East Lake High School in Palm Harbor and earned an accounting degree from the University of South Florida in Tampa.


Q: Can you describe your family?


A: I am married to Doug who works in real estate and construction. We have two daughters, Evelyn Jade who is three and Davianna who is 10 months old.


Q: Did you initially pursue a career in the media?


A: No, I actually worked in accounting for a few years. I decided that I really wanted to be a sports reporter, so I started moonlighting at FOX 13 in Tampa at night after doing my accounting work by day. I worked with Chip Carter, Kevin O'Donnell, and Chris Field there. I also did some work for Bay News 9/Catch 47. I covered the Tampa Bay Buccaneers, Tampa Bay Rays, Tampa Bay Lightning, and lots of other teams and games. I got to attend eight straight Super Bowls, and I've had the chance to interview Joe Torre, Joe Maddon, Jon Gruden, Warren Sapp, Simeon Rice, and lots of others in the sports world.


Q: When did you start working in radio?


A: I started in sports radio in 2011. I was part of the Kirk and Dinger Morning Show on 98.7 The Fan. It was kind of refreshing working in a radio station studio rather than always being out in the field doing sports reporting.


Q: What other TV work have you done, and how do working in TV and radio compare to each other?


A: I've worked on Studio 10 and The Morning Blend. I still occasionally do some TV work.


I will say I love radio because, especially as a female, there is a beauty to just having to think about what you are saying and not how you look. You can also tell stories more effectively on radio because you usually have a little more time to let the stories develop and create that theater of the mind for your listeners. But I do like to occasionally be on TV with that adrenaline rush I get when I know I'm live and on camera.


Q: When did you start with Q105?


A: I came to Q105 about four years ago and worked on the Mason Dixon Morning Show until MJ and his crew just started in the morning.


Q: What are your memories of the first incarnation of the MJ Morning Show when it originated on 93.3 FLZ?


A: Michelle really stood out to me when MJ would have her on the show. I remember hearing about how Michelle was going to law school at Stetson, when their kids were born, and just all of the family dynamics they talked about. I also remember the Crotchety prank calls, which were epic. My husband vividly remembers when MJ called Julia Roberts in the hospital and posed as Richard Gere.


Q: How did you first find out about your involvement with the MJ Morning Show?


A: I found out about 10 days before the show launched. My boss came in and told me and said he had some big news for me that would change my career. I had no idea what he meant. He told me that MJ was bringing back his morning show on Q105 and he wanted me to be the female co-host. It has been absolutely amazing how all of this has happened so quickly.


Q: In your short time on the MJ Morning Show thus far, how would you describe MJ, Froggy, and Fester?


A: I've always had lots of respect for MJ and what he has done with the previous morning show and his Schnitt Show. But when you work with him, you realize how brilliant and clever a man he truly is. I also have to include Michelle in this answer because she is such an amazing person and I know has helped MJ be successful in many ways.


I had met Fester at different promotional events before. He is very quick and funny. He and MJ are also very close in terms of how they work together, and Fester often helps bounce the ball to set up MJ for something.


As for Froggy, he's like a mad scientist because he is always thinking creatively and wanting to come up with the next funny bit for the show. I really can see that creative process at work in both he and Fester every morning. They are comedians and sometimes you can tell when they're just silently thinking to themselves about what to say or do next.


Q: What is your specific title and role on the show?


A: I'm considered a co-host, and MJ is calling all four of us co-hosts. We are all producers and contributors in some way, and we all feel like we're pretty equal in terms of our roles.


My main goals are to be an observer of life around me so I can bring unique stories and perspectives to the conversation. I'm also constantly consuming content, anything from reading news sites and social media pages to listening to podcasts.


Q: What is the vibe like in the studio during the show?


A: It's a very high-energy environment and intense at times. We are constantly either going to the well and trying to think of things in our minds, or we are looking things up online and trying to find the next great piece of content to talk about. MJ has a tendency to spring things on those around him, so you have to overprepare so that you can anticipate what's coming. We all think it's cool to have that element of improvisation.


Q: What can you say about the amount of music the show is currently playing?


A: I will say that Q105 listeners have been accustomed to hearing a fair amount of music in the morning. Some listeners say they want more music, while others say they want more talk from MJ and the crew. We are actually playing less music now than we did with Mason. Ultimately, we want to make as many listeners happy, but we have to be strategic in how we present the show as a whole. There is a chance that the amount of talk we do could evolve over time.


Q: What are your goals as a member of this show?


A: I enjoy being the female voice in the room whom the guys can bounce all kinds of questions and ideas off of, and I can do the same with them. I hope I can continue to have that type of role as an ongoing member of the show. I think I will leave some of the crazy bits and stunts up to Fester and Froggy.


Q: How can MJ Morning Show listeners follow you?


A: You can follow me on Facebook, Twitter, and Instagram at @RoxanneWilder.